1. Analysis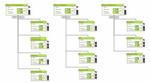 The rewiew of the exsisting system enviroment should be done first. On the basis of the review we can advise about changes and development of existing enviroment. On the basis of predefined critical points of processes the project's targets are set. The achieved targets ensure noticable improvements in the company's performance, productivity and cost efficiency.
2. Implementation
Planning and implementation is a key service since this is the basis of the computer infrastructure. Before starting of implementation, we draw up detailed implementation plans, prototypes and pilot tests. This is the phase where we establish information infrastructure, test it and prepare it for the operative activity.
3. Maintenace and technical support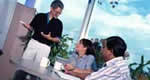 We are aware that integrated information system and solutions bring added valueje only if the users know them and know how to use and support them. Witin the framework of this service we provide training services for the employees to prepare users (administrators, operators and final users) for a new way of work.