ProWin
ProWin is an application designed for the automatic checking and editing data of internal and external payments and comparing them with bookkeeping data. This function enables easy classificiation to single analytic evidences.
It designed for the companies with following working characteristics: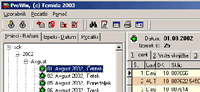 operating with many analytic items during daily money movement,
managing more analytic evidences,
having open more bank accounts,...
As a groundwork for this kind of business, ProWin enables accurateness and real-time registration of tax subjects. You can check the business analysis any time. Other functions of ProWin are logical and user friendly as well.